Engineering Management Product data
Powerful Meta Data Search
Powerful search features allow you to find CAD and 3D quickly so you can copy, move or share files. Thumbnails of 3D models are automatically created by TeamPlatform of every version providing a truly visual search.
Visual search with CAD & 3D thumbnails
Search by comments, owner or label
CAD Meta-Data search will search through all custom properties in SolidWorks and other CAD files.
Tools for CAD Assemblies
Sophisticated, essential, and easy to use tools for CAD assemblies provide an organized, collaborative environment for engineering, design, product development, procurement and manufacturing. Starting from a component, you can perform a "Where Used" search which links directly to assemblies and sub-assemblies used by the component.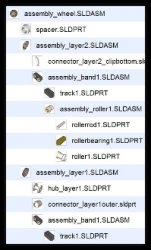 Likewise, every assembly provides a "Has Components" search which displays sub-assemblies and components used in the assembly, and you can instantly jump to a nested assembly tree with model meta-data.
Auto assembly model tracing along with component meta-data, and it is possible to export the assembly components in a linked Excel spreadsheet.
Pack and download assemblies – Automatically trace assembly structure across workspaces to pack them into a zip file so that they can be downloaded from TeamPlatform with all assembly references in place.
Vector-based 2D DWG Online Previews and Markup
2D plays a critical role in the design and manufacturing process and TeamPlatform provides scalable vector graphic online previews of common 2D drawing formats such as DWG and DXF. Zoom into drawings for a detailed look at the 2D model.
Precise 2D representation
Annotate with highlighters, circles, and callouts
Share drawings for procurement, manufacturing and assembly
3D Scan and Mesh Format Support
Manage the complete reverse engineering, inspection or surfacing pipeline with TeamPlatform. Large 3D mesh file support, online previews, mark-up and instant measurement streamlines cross-format collaboration.
STL, PLY, OBJ, XRL, XOV, Color, and many other 3D scan formats are supported
Laser Scan data support with Top-down, Planar, Spherical and Full 3D views of FARO FLS and FWS point cloud format.
Take measurements directly on scans
Learn More
Instant 3D Printing Service Quotes
Deliver faster more accurate quotes to customers and feed your 3D printing services business. TeamPlatform's custom forms, automatic 3D data processing routines, and versatile export options dramatically streamline the 3D Printing quoting and fulfillment process.
Custom Forms for Service Workflows and File Uploads
Auto Computed Mass Properties
Download CAD or Native 3D Format as an STL
You might also like
Microsoft Dynamics AX 2012 - Product Data Management
First Look - SolidWorks Product Data Management (PDM)
Data Governance in Insurance Carriers — Insurance Networking News
The discipline includes a focus on data quality, data management, data policies, and a variety of other processes surrounding the handling of data in an organization.
Warranty Data Collection and Analysis (Springer Series in Reliability Engineering)


Book (Springer)




Used Book in Good Condition
Q&A
What is the purpose of product data management software?
Product data management software allows a business to track the data about their products in an effect manner. The software can help a business track products through their lifecycle and use the data when redesigning the product.
What is the role of an engineer in production management?
what are the role of production management-an expository study