Data Warehouse Within a hotel
Although significant economic and social transformation has offered vast new growth opportunities for multinational corporations (MNC), much of their market opportunities have been focused on the needs of the wealthy few and they seem to have missed the opportunity by consistently ignoring the 4 billion people in the world who live on less than $2 a day. This size of population represents about 70% of the humanity who are at the bottom of the economic pyramid (see Figure 1 below).
In their book titled, "Fortune at the Bottom of the Pyramid", Professors C.K. Prahalad and Stuart Hart, provide thought leadership, unique solutions and fascinating case studies of companies that have leveraged the opportunity to address the market requirements of the "Bottom of the Pyramid" (BoP) markets. In doing so, they bring to light some of the incorrect assumptions about the BoP that MNCs have previously made and they provide recommendations for globalisation strategies through inclusive capitalism and creative approaches to convert poverty into an opportunity for all concerned.
Prior to the publication of the book the dominant assumption has been that the poor are not target customers and companies cannot profitably compete for the BoP market. It was also assumed that the poor cannot afford and do not have use for products and services sold in developed markets and only developed markets appreciate and pay for use of new and advanced technologies; the BoP can use previous generation of technology. Through several case studies, Prahalad and Hart show business leaders how their organisations can make enduring contributions, deliver dignity, empower poor people with new choices, as well as make a profit with the billions of aspiring poor who are making their initial entrance to the market economy.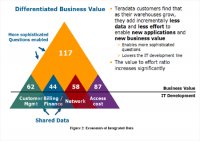 Packaging products in single-serve sachets (such as the Nescafé instant coffee in a hotel room) is a great example of how companies address the cashflow problems of the poor while at the same time providing access to branded products. This kind of packaging, distribution and BoP managerial practices have been so successful that the Indian shampoo market, for example, is now as large as the market in the USA.
Much as how "Fortune at the Bottom of the Pyramid" has helped some of the MNCs to realise the wrong assumptions they made about the BoP and hence missed the market opportunities, it provides some lessons for data warehousing practitioners who underutilise the data in the data warehouse and thus forego the opportunities to bring business value to their organisations. By focusing too much attention on the costs and ignoring the business value of data, many of the Business Intelligence (BI) project managers become short-sighted. In fact, Teradata's customers find that as their data warehouses grow, they add incrementally less data and less effort to enable new applications and new business value which result in lower costs and higher business value.
You might also like
Survey: IT and business at odds on defining big data success — TechTarget
Data warehouse vendors will feel the burn. Hadoop and NoSQL products probably won't replace the enterprise data warehouse, but they are competing for workloads.
OkiData 43979201 Toner Cartridge for B420/B430 Series Printers, 7000 Page Yield, Black


CE (Okidata)



Canon USB Cable IFC-400PCU for Canon Cameras & Camcorders


Photography (Canon Cameras US)




Cable for transfering still images from the camera via USB port
Digital camera compatibility: EOS 10D, S400, S330, S300, A300, A200, A100, A10, A20, S30, S40, S45, A30, A40, A60, A70
Camcorder compatibility: ZR45mc, ZR50mc, ZR65mc, ZR70mc. ZR80mc, ZR85mc, ZR90mc

- Media File Rack CD Holder


CE (Master Caster)




Black media file rack/CD holder for letter size desk drawer.
Fits any letter size file drawer in desks or file cabinets.
Secures and protects confidential data inside locked file drawers.
Hides up to 24 CD s.
For use with standard and slimline jewel cases.
Q&A
What responsibilites does a Data Collector do within a warehouse? What other job title is it comparable to?
The position is a data collector within a large organizations warehouse....I was told I would walk around and record data like downtime etc? Not sure what that means though because this is not my normal industry...please ellaborate someone. Thank you
Typically Data Collection in a Warehouse is another term for inventory.
If the warehouse contains equipment, then some of it may not be ready to be used.
The equipment that is returned damaged or non functioning will needed to be evaluated. This evaluation is simply to repair, replace or recycle. This company may be tracking the down time of the equipment.
How To Manage Meta Data Within a Data Warehouse
Many large companies are now implementing data warehouses. They may use them to analyze specific areas such as customer service or financial issues. Many companies will create multiple goals that they will work towards by using data warehouses.