Knowledge management implementation plan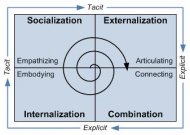 A winning knowledge management program (KMP), one that increases staff productivity, product and service quality, and deliverable consistency by capitalizing upon codified intellectual and knowledge-based assets, cannot subsist on technology solutions alone, It must also consider people, processes, structure, and culture.
Many organizations leap into a knowledge management (KM) solution (document management, data mining, blogging, community forums, and the like) without first considering the purpose or objectives they wish to fulfill or how the organization will adopt and follow best practices for managing its knowledge assets long term.
This is the first in a series of three articles in which I will present a phased approach for implementing and sustaining a successful KMP. Part I introduces some key KM terms and concepts and then presents the eight-phase approach at a high level. Respectively, Parts II and III discuss phases 1 thru 4 and 5 thru 8 in more detail.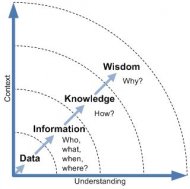 Terminology and Concepts
While Knowledge Management as a discipline is relatively young having started in the '70's, KM terminology, models, and best practices are still being established and adopted. I've listed the more widely accepted terms and concepts below. They should provide some awareness and basic principles upon which to build your organization's KMP.
KM best practices specify different types of knowledge. The types most often referenced are tacit knowledge and explicit knowledge.
Tacit knowledge represents internalized knowledge that an individual may not be consciously aware of, such as how he or she accomplishes particular tasks.
Explicit knowledge represents knowledge that the individual holds consciously in mental focus, in a form that's easily communicated to others.
In 1995, Nonaka and Takeuchi introduced the Socialization-Externalization-Combination-Internalization (SECI) model (Fig. 1) in their book The Knowledge Creating Company wherein tacit knowledge is extracted to become explicit knowledge, and explicit knowledge is re-internalized into tacit knowledge. It demonstrates a continual evolution of knowledge through socialization, externalization, combination, and internalization.
In 2007, the IT Infrastructure Library v3 (ITIL v3) introduced a Knowledge Management process including definitions for data, information, knowledge, and wisdom.
You might also like
WinStack Market Knowledge Tenant Management system for ...
IT@Intel vPro Implementation Knowledge Sharing
Start Early, Update Often — AgWeb
"When possible, the actual succession plan should be developed before the next generation starts working for the farm in a career position," says Gregg Hadley, Kansas State University farm management specialist. "Create an initial succession plan and ..
The CEO Checklist - What It Takes To Be An Entrepreneurial CEO — Forbes
A Good Manager who can plan and execute on time at a tactical level, in a way that is efficient with resources. Note: oddly, a great ..
The Implementation of Knowledge Management in the Practice of International Active Small and Medium-Sized Enterprises with the Special Aspect of Motiv


Book (GRIN Verlag)




Used Book in Good Condition
Moat wanted: mid-market winner to float client retention plan at AGSM Mid .. — BRW
She says as many mid-market players are "family-based", their management systems may also have developed in an ad-hoc way, leaving knowledge gaps in expanding businesses. "As mid-market firms .. "They're implementing that plan now," Spargo says.