Asset liability Business Intelligence insurance
Business Intelligence for Insurance
The recent economic downturn and the market change to a customer-centric approach have altered the market dynamics. The ecstatic expectation of a never ending pipeline of new customers with unlimited dollars has given way to harsh realities brought on by tightening of budgets and reduction in consumer spending. Also, the product-focused approach to selling insurance products that was used for the last 50 or more years is no longer holding up in a customer-driven marketplace. Customers are now demanding a portfolio of products from a single source that will meet all their needs.
Secondly, in last one decade, Insurance companies markets that had limited competition saw an explosion in the number of new entrants. The once friendly financial services firms and banks with their vast network of branches and agents posed a new competitive threat. On the flip side there has never been a better time for insurers to grow top line revenue by selling new products to an already established customer base.
Sweeping changes like consolidation and new competitors, globalization, product convergence, channel proliferation, new approaches to customer relationship management generates significant big-data problems for large insurance companies.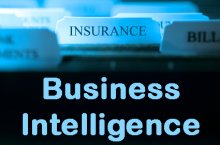 Leveraging customer data is the key as insurers rapidly shift their attention to differentiation based on customer acquisition and retention rather than product offerings. Integrating the e-business channel into existing legacy applications and achieving operational efficiencies are also important imperatives for large insurers, especially those who want to integrate offerings across product lines or business units as a strategic business goal.
How to control the Data in Insurance industry for taking Informed Decisions and thereby business success
In order to overcome the above challenges, Insurance companies are looking for new ways to drive positive results to their bottom line. Their strategic business objectives are to:
- Gain a better understanding of the market and customers' needs
- Reduce operating costs through increased efficiency
- Reduce customer churn and improve retention through better loyalty programs and customer service
- Reduce and control risk
- Identify opportunities to increase revenue by cross-selling and up-selling
The value that BI provides is that it transcends intra-organizational boundaries thereby providing its users with an enterprise perspective. In a customer-driven market place, BI correlates information from the multiple divisions of an organization to reveal opportunities that would not have been unearthed using the traditional lines of business reporting. The data is maintained at a granular level for access to facts as well as summarized to allow for discovery of patterns and trends over time.
You might also like
IIFL Holdings jumps on receiving Sebi nod for investment advisory services — Business Standard
With this, IIFL Holdings would be offering a wide range of investment and financial advisory services to corporate and institutional clients.
Sarah Oberhofer Joins Brookfield Office of Ameriprise Financial — Brookfield Elm Grove Now
Brokerage, investment and financial advisory services are made available through Ameriprise Financial Services, Inc. Member FINRA and SIPC. © 2014 Ameriprise Financial, Inc. All rights reserved.
Capital Intelligence Raises the Ratings of Gulf Finance House BSC — MENAFN.COM
Being a wholesale entity, the company has no official lender of last resort.
Q&A
Why are the assets of a business equal to the capital plus liabilities
Basic accounting equation = assets = liabilities + capital
it is so because capital as well as other liabilities have to be paid by the business at the dissolution time of business and at dissolution time or liquidation time business must have assets equal to liabilities plus owner's equity to pay all liabilities of business without going insolvent otherwise business will become insolvant and somebody will not get all it's liabilities completely cleared at the time of liquidation of business.
What is the Cost of business liability insurance?
Answer Business Liability Insurance costs vary from State to State. Your costs will depend on what type of business your in and the size of your business and a number of other factors. Contact a local independent insurance agent for a quote. If in NJ contact William J Zester, VP - MPPI, Inc.
bzester@mppi.com