Business Intelligence Salary Guide
Business intelligence analysts take an organization's accumulated data and turn it into information that leadership can use to make business decisions.
Organizations are quickly embracing the use of big data analysis, which has increased their activities in data mining, cleansing and reporting. Business intelligence analysts can help them drive their business with verifiable data.
Joey Lagone, division director for Robert Half Technology, says, "Decisions made from the information provided by the business intelligence analyst can have an immediately quantifiable return on investment."
Business intelligence analyst salary seeing a big boost in 2014
Business intelligence analysts are in high demand, and employers are prepared to pay skilled talent well. Robert Half Technology's 2014 Salary Guide reports that the business intelligence analyst salary in the United States is expected to increase 7.4 percent this year — with average starting compensation ranging from $101, 250 to $142, 250.* (You can use the Robert Half Technology Salary Calculator to find salary information specific to your city.)
What employers look for in a business intelligence analyst
Qualifications to become a business intelligence analyst include:
A strong background in all aspects of database technology, with an emphasis on the use of analytical and reporting tools
Several years of experience with database queries, stored procedure writing, Online Analytical Processing (OLAP) and data cube technology
A bachelor's degree in computer science, information systems or engineering
For students who aspire to become business intelligence analysts, Lagone recommends taking courses in SQL Server Integration Services (SSIS), SQL Server Analysys Services (SSAS) and SQL Server development. Due to the heavy use of analytics and exposure to standard tools and techniques, he also suggests that an internship in the financial industry can help students make valuable contacts and find a mentor.
Lagone also recommends that professionals already in the market for business intelligence analyst jobs look for "progressive companies that utilize their IT departments to help drive business decisions, rather than just keeping the company running."
The business intelligence analyst at work
Business intelligence analysts design and develop enterprise-wide data analysis and reporting solutions. They also review and analyze data from multiple internal and external sources. After performing their analysis, business intelligence analysts communicate their results and make recommendations to senior management. They also may be asked to develop data cleansing rules. Most business intelligence analysts will spend much of their time responding to management's requests for specific information, but also may be expected to explore data independently to identify patterns and trends and provide new insights to the business.
You might also like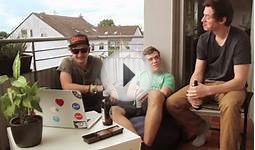 ECHO Music Business Intelligence - Media Project 4
Corporate Spirit - Business Presentation, After Effects ...
IIFL Holdings jumps on receiving Sebi nod for investment advisory services — Business Standard
With this, IIFL Holdings would be offering a wide range of investment and financial advisory services to corporate and institutional clients.
Sarah Oberhofer Joins Brookfield Office of Ameriprise Financial — Brookfield Elm Grove Now
Brokerage, investment and financial advisory services are made available through Ameriprise Financial Services, Inc. Member FINRA and SIPC. © 2014 Ameriprise Financial, Inc. All rights reserved.
Capital Intelligence Raises the Ratings of Gulf Finance House BSC — MENAFN.COM
Being a wholesale entity, the company has no official lender of last resort.
Q&A
What is the salary for app development, business intelligence, cybersecurity and networking?
I'm interested in getting a bachelors degree in computer information systems from this institution: I'm not sure which emphasis I want. I think I'm more interested in app development but I keep thinking that type of job would get old fast; what I mean is, I keep thinking its like a contract job or app developers won't be needed in the future for a long time; like I won't be able to have this job 10+ years from now. Is pay for these emphasis' good in Dallas,TX ?
Starting salary for a software developer, regardless of your industry, living in Dallas TX is about $50k/year. If you're interested in contract work, that translates into about $20-30/hr.
And don't worry. "apps" aren't going anywhere, let alone cybersecurity or networking. If anything, the demand for developers in these areas will only be increasing for the foreseeable future.
I have no idea what that other guy is talking about. $200/mo?!?
What's the min, max and average salary for a Business Intelligence professional in Toronto, ON, Canada?
Depending on many variables I would guess the average to be $75K - $150K total income depending on your specific position and how successful you are.
In sales, base salary would make up 50-65% of that.