Next generation Business Intelligence
There are 4 key components of the Enterprise Information Platform (EIP) that can be touted as Next Generation BI offerings from Hexaware. They are:
Big Data Analytics
Predictive Analytics
Social Media Analytics
Mobile Business Intelligence
Big Data Analytics
For many years, BI practitioners have dealt with structured data – managed and harnessed it for insights. Structured data is typically 20-25% of data generated by any organization. The rest 75-80% is composed of unstructured data (Text documents, Files etc.) and hitherto there has been no system / technique / platform to derive insights from this dataset.BIG DATA techniques help organizations to manage large volumes of data (terabytes to exabytes to petabytes), different varieties of data (structured, semi-structured and unstructured), handleever increasing data velocity and perform complex analysis that have high variability.
The diagram below illustrates the evolving architectural paradigm of combining structured and unstructured data analysis.
Predictive Analytics
Our range of Predictive Analytics solutions deals with all techniques available for organizations to predict future business outcomes.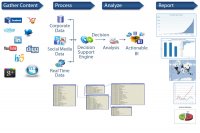 They can be broadly classified as:
Data Mining –Finding patterns in data to predict behaviors and future trends.
Text Mining – Process of deriving high quality information from textual, unstructured data.
Complex Event Processing (CEP) – Predicting future outcomes by analyzing multiple data streams in real-time.
Simulations – Provides a dynamic future view of business by leveraging statistical and business process simulations.
Social Media Analytics
Our Social Media Analytics solution is composed of the following pieces:
Social Media Monitoring – Ability to extract data from social media sites.
Social Media Data Management – Manage the social media data in conjunction with enterprise business data in a comprehensive data model.
Social Media Analysis – Analyze social media data by using specialized techniques to extract sentiments, entities etc. which ultimately helps to improve business process outcomes.
Mobile Business Intelligence
You might also like
Project Server 2010 Dashboard / Business Intelligence
Training: SQL Server 2008 Business Intelligence exam 70-448
Charter inks data warehouse deal with Sense Corp — CED
"Within the cable industry, Charter is already recognized for its enterprise business intelligence capabilities.
Charter Chooses Sense Corp as Exclusive Vendor for Next-generation .. — Wall Street Journal
"Within the cable industry, Charter is already recognized for its enterprise business intelligence capabilities.
Star Trek Next Generation Intelligence Gathering #5 Sketch Official Reproduction


Collectibles ()




Why buy from The Steel City Auctions Gallery?
Selling online since 1997, completing hundreds of thousands of transactions
Accredited business
JSA Authentication authorized dealer
Q&A
What is next-generation business intelligence?
Next-generation BI is not just about technology. It's a new way of thinking about your data -- picking and choosing what data has value and what's worthless. So some experts say the first step is turning to master data management -- and, in turn, a data governance program. Others say the first step is establishing a corporate performance management strategy.