Disaster management implementation Strategy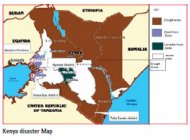 Challenges and opportunities in Kenya
Wafula Luasi Nabutola, MSc

Consultant – In – Chief MYRITA CONSULTANTS Chair FIG Commission 8: (FIG) International Federation of Surveyors(Spatial Planning and Economic Development)
The Republic of Kenya
In the last two decades, Kenya has faced a rising degree of vulnerability to the risk of disaster. Risk is the probability of a hazard turning into a disaster, with households or communities being affected in such a manner that their lives and livelihoods are seriously disrupted beyond their capacity to cope or withstand using their own resources, with the result that affected populations suffer serious widespread human, material, economic or environmental losses.
As challenges go, Kenya has had a fair share of disasters. Some have been natural like floods, famine, drought, hurricanes while others have been manmade, like the terrorist bombings that have become commonplace in our society, of late. Such as the Sinai tragedy where 100 people died; the Sachanguan Petrol Tanker tragedy in which over 300 died, more recently eight girls in Primary Boarding School died in a dormitory; that same week more than 50 perished when a neighbouring community in Tana River Delta invaded another, etc.
The bombings can be traced to the decision last year to invade Somalia with the aim of flushing out the Al Shabbab gangsters. This was as a result of frequent incursions into our country by the Al Shabbab militia, and their abducting and subsequent murdering of tourists and Kenyans alike. It was a direct threat to the tourism industry, which is critical to Kenya's economy. Hotel bookings got cancelled and foreign governments issued advisory notes to their citizens not to venture into Kenya. Some of the other man-made happenings also could have been prevented.
To my mind I see a dichotomy of two clear distinctions of disasters; the one in which we can anticipate, plan for and prevent; or if they happen, we are so prepared that they cause minimum disruption. The other class of disasters occur and we have to deal with them, in a reactive manner. Nevertheless we can prepare ourselves.
Kenya's disaster profile is dominated by droughts, fire, floods, terrorism, technological accidents, diseases and epidemics that disrupt people's livelihoods, destroy infrastructure, divert planned use of resources, interrupt economic activities and retard development. Despite the many important disaster management initiatives undertaken in Kenya over the past two decades, an adequate level of preparedness required to address its significant risk profile has not been achieved. Initiatives have been undertaken in an inconsistent, unharmonious, reactive and uncoordinated manner due to lack of a unified policy framework. In view of the experiences gained and lessons learnt during the management of various hazards and disasters, the Government of Kenya formulated a draft National Disaster Management Policy to emphasize proactive and preventive strategies in addressing disaster situations. But this has not yet been finalized and yet it still needs revision to reflect the requirements of the Constitution of Kenya 2010 (CoK 2010).
You might also like
Stock Update (NASDAQ:CTSH): Cognizant to Present at Investor Conferences
— Jutia Group
.. operations improvement consulting, strategy consulting, and business consulting services; and application design and development, systems integration, enterprise resource planning, and customer relationship management implementation services.
National Disaster Housing Strategy and Implementation Plan (Government Procedures and Operations)


Book (Nova Science Pub Inc)




Used Book in Good Condition
Q&A
What is the typical relationship between product managers and trade show strategy & implementation? - Quora
We tend to collaborate with clients on trade show strategy. Generally they have something in mind (or their marketing agency does) and we figure out the best way to communicate their message in a booth.
Generally the client or their marketing agency assess the effectiveness of a trade show booth, depending on what services are offered by the booth company.
Our company is a bit different in that all of our booths and display products are eco-friendly. Companies come to us when they want sustainability to be a part of their trade show message.

What is the role of governance and management in formulating and implementing distribution strategy
You should try answering the Strategic Marketing question yourself rather than asking on internet sites. :)